Michael Heyfetc
ROCK'N'ROLL IN FALL
Critic Igor Kavčič (Gorenjski glas) presented the comedy AUTUMN ROCK'N ROLL in the June issue of Ločanka as follows:
It is a light comedy with a text that can be quickly internalized and transferred to our life situations. In the play, we meet two single participants of a dance class in their golden years, who desire to learn how to dance rock'n'roll. Really? When he is missing for one reason or another, she comes to his home. This is where the whole show more or less takes place, as they both decide to rehearse at home using an instructional book. During their 'rehearsal', both of them exchange their character traits using different 'tactics'. The play is full of witty dialogues and moves that both actors offer us to make us laugh. Oh, how many times she takes her coat and purse and leaves, only to return again. Just when we think that the birthday celebration is the highlight of the show, it turns out that the dance rehearsals are just a cover up. That's where the story gets even more complicated. Well, at the end of the play everything is clear; it doesn't matter if we have an ear for rhythm and music. It matters much more that our heart dances when in our golden years we find the right person who will not only be impressed by your good sides, but will be able to understand even your bad ones.
Author: Michael Heyfetc
Translation & Adaptation: Igor Korošec
Director: Igor Korošec
Dramaturgy: Nadja Strajnar Zadnik
Cast:
NADJA STRAJNAR ZADNIK
IGOR KOROŠEC
Igor Korošec
graduated in acting from the Russian Academy of Dramatic Art (GITIS) in Moscow, after which he was employed in the Slovenian National Theatre Celje for a couple of years, and also played in the City Theater of Ljubljana. Later, his journey took him to Los Angeles, where he continued his acting career in theater performances as well as in television series ('Alias', 'Chuck', 'Rizzoli & Isles', 'Grimm'), films ('Good German' directed by Steven Soderbergh, 'Charlie Wilson's War' directed by Mike Nichols), commercials, radio plays, etc. He also taught acting in the USA (including at the University of California Los Angeles [UCLA]), directed the street musical 'Romeo and Juliet', the theater play 'Got Fiance, Girls?' and the TV pilot 'Along Came You', for which he also wrote the screenplay. In 2016, he starred in the short film 'Minus 1' in Slovenia, for which he received the award for best actor at the 'Global Monthly Online Film Competition'.
Igor Korošec recently returned to Slovenia after 22 years to continue his career as an actor and director. That's why he gladly responded to the invitation to play in the play Jesenski rock'n roll, to retranslate, arrange and direct it.
Nadja Strajnar Zadnik,
a drama actress with a degree, played her first roles as a child. After graduating from AGRFT, she has played more than 120 different roles to date, most of them in professional theater, television, radio and film. She began her professional career at the SNG Drama and Youth Theatre, continued at the SNG Celje and puppet theaters, and finished her professional career at the City Theater of Ljubljana. The graduation work Naivna lalastovka in the cast of Duša Počkaj, Jurij Souček, Dare Valič and Nadja Strajnar Zadnik became her first professional performance at SNG Drama. The first professional film work was the main role of Gina in the TV series Youth on the Stairs. directed by F. Štiglica. In 1988, she was nominated at the Borštnik meeting for the role of Sonja in The Queen of Spain as the best female role. At the end of her professional career, she also tried her hand at ballet, where in her mature years she danced the role of Simone in one of the oldest European ballet performances, La fille mal gardée.
"I can tell you that life is a comedy... but the truth is that it is more difficult to be a good comedian than to be a bad tragedian."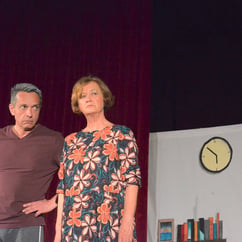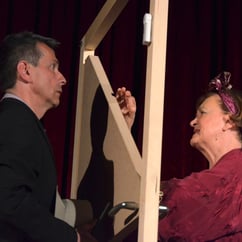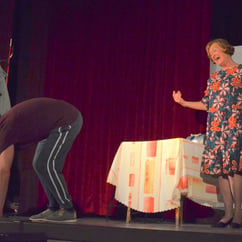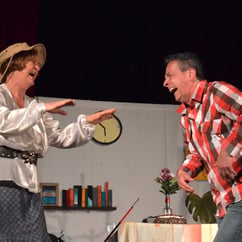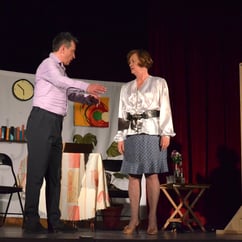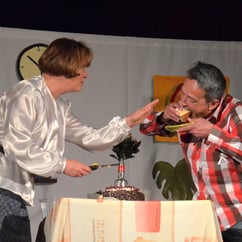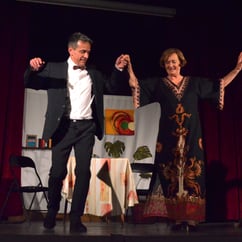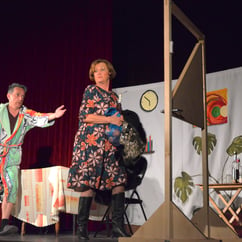 Media about the show
Both actors sovereignly demonstrate their creative power and dominate the stage in portraying their roles throughout, whether in diction, movement or other stage presence. Igor Korošec presents his rich acting knowledge and may even be in his best acting years. Nadja Strajnar Zadnik, a retired member of the acting ensemble of the City Theater of Ljubljana, confirms the catchphrase that good actors never retire. No, there is never a moment of boredom in the show, so I recommend it to all latecomers - don't miss it.
From the appendix of Gorenjski glas, June 2022; author: Igor Kavčič
The audience about the show
"After the corona, this show was a balm for the soul. We really laughed from our hearts."
- Marjeta Ž. & family
"My husband and I burst out laughing from the very beginning to the end of the show. The best show ever."
- Jožica in Bine
"Two actors on stage for an hour and a half... When my wife and I were invited by the neighbors to the Rock'n'Roll in Fall, I expected a single boredom, but I was pleasantly surprised. All the time something was happening. It was always funny from the beginning to the very end. These two actors rock!"
- Karlo
"My kids are quoting that joke about carp all day long. They've been to the theater for the first time and now they're really excited about it. All three of them are now wondering when we're going to see that absolutely hilarious. auntie and uncle again."
- Malovrhovi
"Like watching my father-in-law and his partner. Absolutely hilarious. We need that during these bad times."
- Milena
"Finally a show without cursing and nudity. Apparently you can get laughs without it. Well done!"
- Miha in Branka